Mitcham City Brass (based in Adelaide, South Australia) is a progressive C Grade brass band enjoying much success over the last few years, winning the 2017 State C Grade titles and coming second in the 2018 Australian National Brass Band Championships.
The band is one of the busiest in Adelaide, staging many concerts throughout the year as well as performing at a wide range of community events. Led by musical director Steven Packer, our repertoire includes traditional brass band marches, hymns and contest pieces as well as movie soundtrack and popular music from the 1940's to the present.
New members are always welcome. Practice is held on Monday and Thursdays commencing at 7.30 pm in our Band Room at the corner of Grange Road & Belair Road, Torrens Park opposite the Mitcham Council Chambers. Lessons are available for those wishing to brush up their skills, or those wishing to learn a brass instrument from scratch.
Please explore our website for more information, contact Tamina Judd our Band Secretary, or simply drop in to one of our rehearsals. If you would like to receive regular information about our performances you can sign up to our Friends of the Band mailing list.
MD Steven Packer leading the band
The 3rd Mitcham Band Festival will be held on 21 and 22 June 2019. This year promises to be full of surprises with a number of Community, Military and Show bands joining us for the first time, as well as some favourites coming back for more! The program...
read more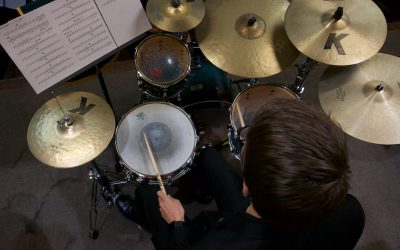 Great evening with an excellent turnout at the Hungarian Club. Mitcham City Brass proved that brass bands can swing! 
read more
Mitcham City Brass is proudly supported by...
Contact
Email or phone Tamina Judd our Band Secretary with your enquiry.