Join us for an epic weekend to be entertained by some of SA's top Brass, Concert and Stage bands.
Friday 7.00 pm (Theme: Back to the 80's)
Featuring host band, Mitcham City Brass along with SA Schools Concert Band and Woodville Concert Band
Saturday 10.00 am
Featuring Adelaide German Band, Holdfast Bay Concert Band, City of Adelaide Concert Band, Uraidla Concert Band and Unley Concert Band, Hahndorf Town Band, Second Wind Ensemble, Burnside Youth Concert Band and Band of the 10th/27th Battalion Royal SA Regiment
Saturday 7.00 pm
Featuring the Royal Australian Navy Band, West Torrens Concert Band and Onkaparinga Concert Band
Program
See the scheduled performance times for all bands
Tickets
Tickets available at www.trybooking.com/CIMBU or at the door (cash/card payments):
Friday – Adult: $20 | Pensioner/Student Concession: $15 | Child U/13: Free
Saturday – Adult: $15| Pensioner/Student Concession: $15 | Child U/13: Free
Festival Pass – both days
Adult: $25 | Pensioner/Student Concession: $20 | Child U/13: Free
Companion Card holders – Free
Food, Snacks and Refreshments will be available.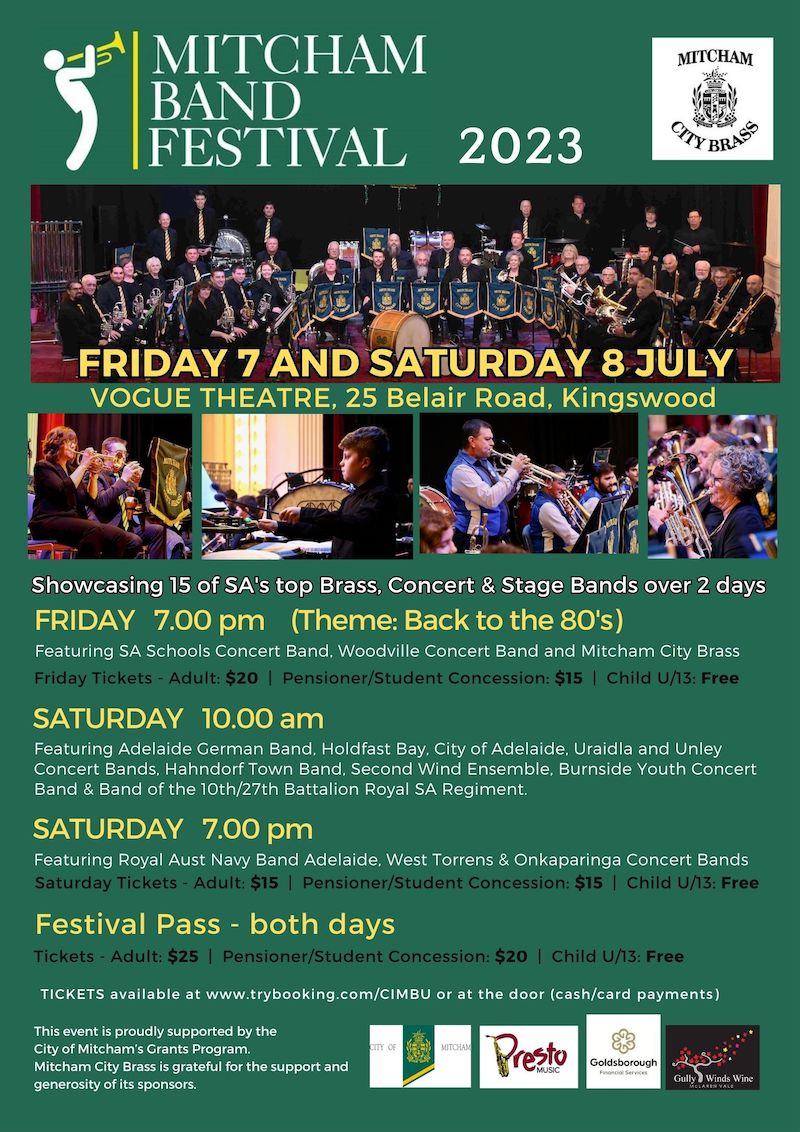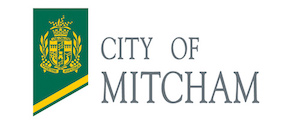 This event is proudly supported by the City of Mitcham's Grants Program
Mitcham City Brass also acknowledges the valuable assistance of our sponsors:
The following business have supported the festival with prizes for our raffle.
Mitcham Band Festival 2023 Program
Friday 7th July 2023 – GALA CONCERT
7:00 pm: SA Schools Concert Band
7:45 pm: Woodville Concert Band
8:45 pm: Mitcham City Brass
Saturday 8th July 2023
10:00 am: Adelaide German Band
10:55 am: Holdfast Bay Concert Band
11:50 am: City of Adelaide Concert Band
12:45 pm: Uraidla Concert Band
1:40 pm: Unley Concert Band
2:35 pm: Hahndorf Town Band
3:30 pm: Band of the 10/27 Battalion Royal Australian Regiment Army Band, Adelaide
4:25 pm: Second Wind Ensemble
5:20pm: Burnside Youth Concert Band
7:00 pm: Royal Australian Navy Band, Adelaide
7:55 pm: West Torrens Concert Band
8:50 pm: Onkaparinga City Concert Band