MITCHAM CITY BRASS
Celebrating 120 years of continuous banding 1901 – 2021
Mitcham City Brass, based in Adelaide, South Australia, has enjoyed much success over the last few years, winning the 2017 and 2019 State C Grade titles and coming second in the 2018 Australian National Brass Band Championships. The band was recently promoted to B grade and is looking forward to the challenge of continuing the development of its sound and quality of performance.
Mitcham is one of the busiest brass bands in Adelaide, staging many concerts throughout the year as well as performing at a wide range of community events. Led by musical director Steven Packer, our repertoire includes traditional brass band marches, hymns and contest pieces as well as movie soundtrack and popular music from the 1940's to the present.
New members are always welcome. Practice is held on Monday and Thursdays commencing at 7.30 pm in our Band Room at the corner of Grange Road & Belair Road, Torrens Park opposite the Mitcham Council Chambers. Lessons are available for those wishing to brush up their skills, or those wishing to learn a brass instrument from scratch.
Anniversary Celebrations
With our 120 Years (+1) anniversary celebrations being held in October 2022, we invite all former Players, Musical Directors, Life Members and their families to reconnect with the band. If you have ever been part of Mitcham City Brass or know of anyone who was, please send your/their contact details to secretary@mitchamcitybrass.org.
Explore 120 Years of MCB History
If you would like to receive regular information about our performances you can sign up to our Friends of the Band mailing list.
Players Wanted!
Solo Cornet
and
Euphonium
Experienced players urgently required.
All other instruments welcome as well.
Please contact Brenton Miegel: secretary@mitchamcitybrass.org or come along to rehearsal Monday evenings 7.30pm at our Band Room.
Watch us play…
Performance of "Saddleworth Festival Overture" by Goff Richards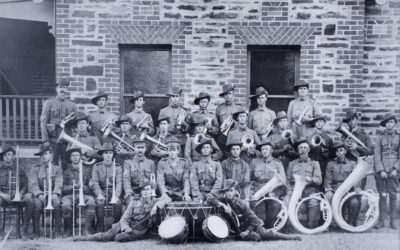 In 1912 Mr. Laurie Chenoweth assumed control as Bandmaster, a position he held for 34 years and in 1913 the Band won its first of many contests. This was at the Strathalbyn Championships, gaining first place in the March, Waltz and own choice sections.
read more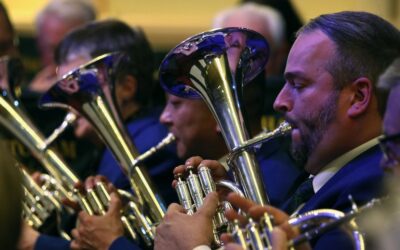 Photos from the 2021 Mitcham Band Festival - Saturday 15th May Featuring:West Torrens Concert Band10/27th Battalion Royal SA Regiment Big Band
read more
Contact
Email or phone Brenton Miegel our Band Secretary with your enquiry.